Description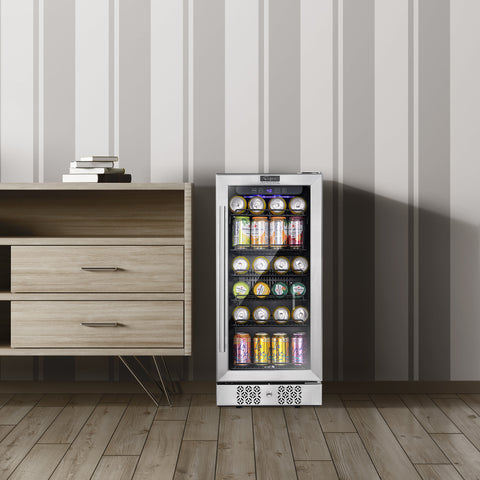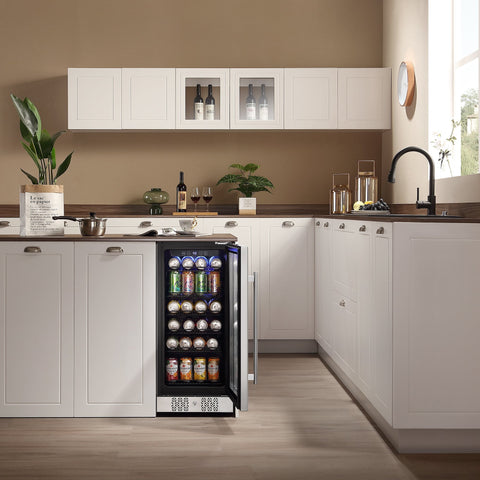 Empava beverage refrigerator is engineered with a powerful compressor and 2 convection fans to evenly distribute cold air throughout the cabinet to prevent hot spots, frosting, and uneven cooling.
The adjustable thermostat allows you to adjust the temperature from 38℉ to 50℉ (3℃ to 10℃) to store your favorite beverage in an optimum temperature. Equipped with Advanced Compressor Technology, the cooler can also maintain the internal temperature evenly and accurately in low noise, which makes the beverage cooler works efficiently and energy-saving.
The Empava cooler is equipped with 6 adjustable and removable chrome shelves, which can hold 84 cans (12 oz.) of beverages. As for the irregularly shaped bottles, it is easy for you to store them by removing shelves. 3 cu. ft. capacity suitable for wine bottles, beer cans, soft drinks, milk, water, snacks, and much more!
The shelves are made from chrome to prevent condensation and pull out to make life easier. This wine cooler can be left as freestanding or it will fit in a 15.3-inch gap underneath your kitchen worktop the door hinges are designed so you can place it next to other appliances and the door will open without being obstructed.
The blue LED digital display controls wine cooler temperature by the ergonomic touchpad making it easy to adjust the temperature, led, or even switch between Celsius and Fahrenheit. The reversible hinged door allows you to install the door for either left or right-side opening.
The door has a stainless-steel front finish and the tempered, smoked glass is double glazed. The beverage cooler features a stainless-steel handle which makes it easy for you to open the door and gives the cooler a modern and sleek look. The internal LED light allows you to easily find your beverages at night.
 Dimensions: 14.8 in. W x 22.4 in. D x 33.9 in. H.Net Capacity: 84L, Net Weight: 71.7lbs. Voltage:110-120V 60Hz, Input power: 90W; Energy Consumption: 0.257kWh /24H. Climate Class: SN.N. With 1 Year Warranty.
Serving your favorite beverages at the ideal temperature is easy with the 3 cu.ft Empava Beverage Cooler. The cooler's elegant, sturdy chrome shelves are adjustable to offer versatile storage options and the unit can hold up to 84(12 oz.) beverage cans for your convenience. The tempered, smoked glass door and stainless steel frame and handle offer durability and an attractive look. Auto defrost option for your convenience. The cooler can be built-in or left freestanding to suit your needs. 
| | |
| --- | --- |
| Width | 14.8 |
| Depth | 22.4 |
| Height | 33.9 |
| Net Capacity | 84L |
| Net Weight | 71.7lbs. |
| Voltage | 110-120V 60Hz |
| Input Power | 90W |
| Climate Class | SN.N |
| Warranty | 1 Year |
| Beverages Storage | 84(12 oz.) cans |
| Energy Consumption | 0.257kWh /24H |
| Temperature Range | 38℉ to 50℉ (3℃ to 10℃) |